Jackie Kelm
Here is Jackie Kelm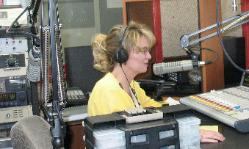 Here is her book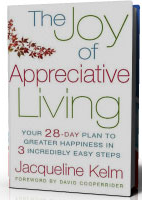 To buy this book, click on this link
The Joy of Appreciative Living: Your 28-Day Plan to Greater Happiness in 3 Incredibly Easy Steps by Jackie Kelm delivers a strong message. Becoming more appreciative of the world around you is not easy by anybody's estimation. it takes a lot of discipline, not to mention determination. But it can pay off in big dividends: greater fulfillment and deeper relationships with the people around you.
How Jackie Came to Write this book:
The story behind the story
Appreciative Living has long been utilized by major corporations, such as Verizon, the U.S. Navy, Hunter Douglas, and John Deere in the hopes of boosting their employees' productivity and morale. Jackie used it herself for years when she worked as a business consultant.
In time, however, she began asking herself some hard questions: Could this strategy, which encourages people to see positive aspects in the world around them, help people on a more personal level? Could it benefit people, like herself, whose life might look fine from the outside but who often felt it lacked meaningfulness?
The National Joy Study, Jackie conducted during 2007 answered both of those questions with a resounding "yes." It concluded that 97% of the participants felt significantly happier in less than a month if they completed just three fast and easy Appreciative Living exercises daily. And they continued to feel that way six months later.
These results helped provide Jackie with an added impetus to write her book The Appreciative Living Book: Your 28-Day Plan to Greater Happiness in 3 Incredibly Easy Steps.
Jackie has an undergraduate degree in Mechanical Engineering from Kettering Institute of Technology and a MBA with a specialization in Organization Behavior from Case-Western Reserve University.
Her web site is www.appreciativeliving.com.
An interview with Jackie can be downloaded at http://www.artistfirst2.com/ArtistFirst_Harriet_Tramer_2017-03-15.mp3